The COTS Hour is our annual fundraiser to update the community on our work to house those experiencing homelessness.
This year, to prioritize the health and safety of our community, The COTS Hour is going Virtual! Instead of our usual breakfast, we will be airing The COTS Hour-at-Home on Thursday, Dec. 3 on YouTube, Facebook, and our website at cots.org. This will allow us to expand our social reach while maintaining social distance, and we are excited to try a new format in 2020.
Links to the event will be provided closer to the event. But for now, you can help us prepare in one of three ways!
We'll provide registrants with all the info you need to watch the event and share with your friends closer to Dec. 3. You can register by clicking here (give.cots.org/cotshourathome).
2. View our How-To Guide before the event
This guide provides information on how to register and helpful tips to watch – and share! – the event on Dec. 3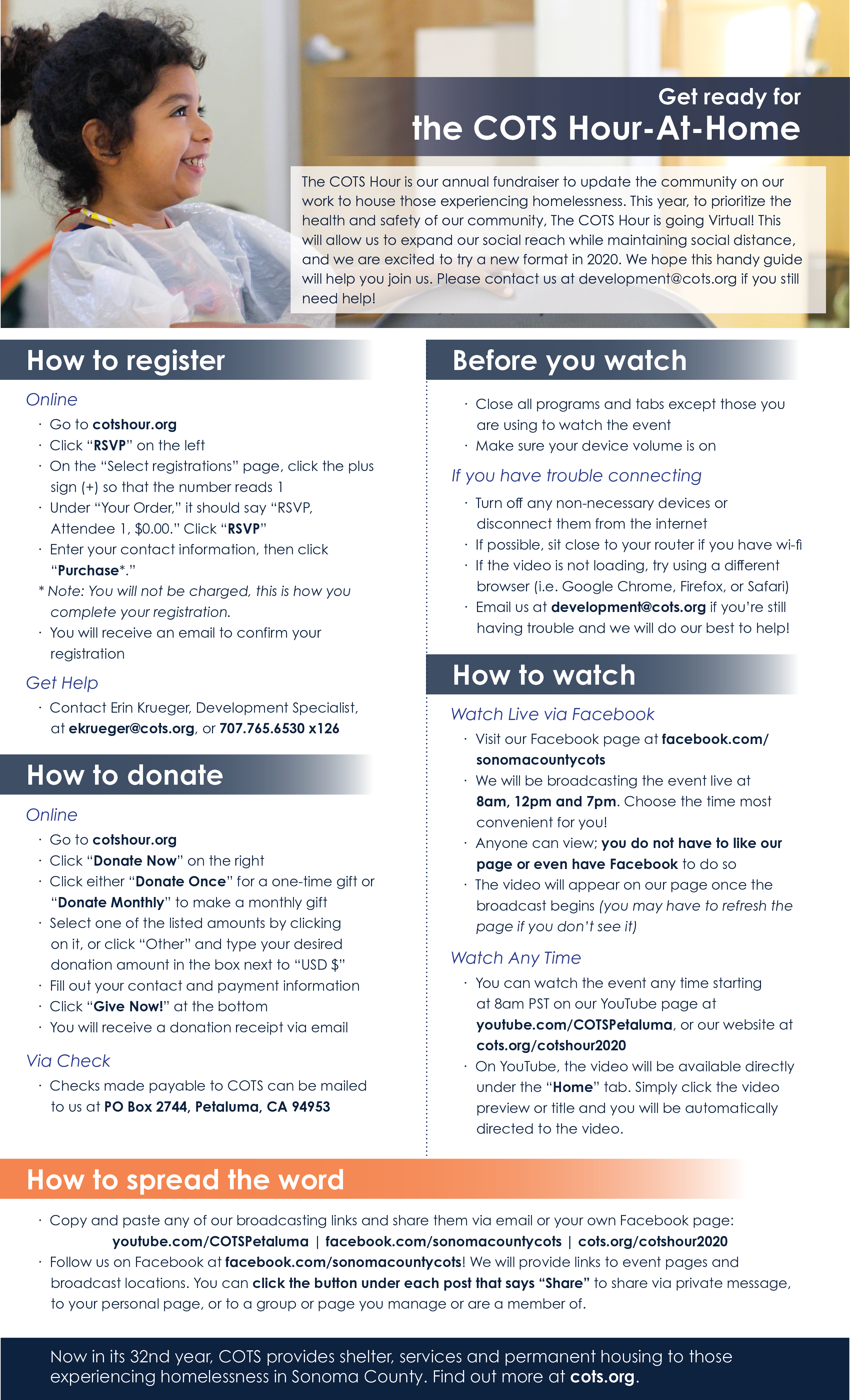 3. Sign up to be a "Table Captain"
While this year, we won't be renting tables, you can still spread the news of the broadcast – and COTS' work to end homelessness – with your friends, coworkers, and family. Host a viewing party and share the recording with your network for maximum impact. Table Captains will receive a special swag bag prior to this year's event, access to invite-only Virtual Town Halls to give you the inside scoop on our work, and other brand new benefits in 2020! Email Jamieson Bunn, Director of Development, at jbunn@cots.org or call (707-765-6530 ext. 100 to learn more or read our Table Captain 101 here.
4. Sponsor the event
Event sponsors make our work to end homelessness possible and set an example of philanthropy at a time when it's needed most. And this year, we're offering even broader visibility to our community than ever before with a virtual event with no guest limit and three broadcast times throughout the day on Dec. 3! Event sponsors receive the same benefits as Table Captains plus publicity for your business through COTS' website, social media, and the event itself. Learn more by emailing Jamieson Bunn, Director of Development, at jbunn@cots.org or call (707-765-6530 ext. 100 – and check out our Sponsorship Benefits package here.
Thank you for your investment in our neighbors experiencing homelessness! Together, we can make sure everyone has the opportunity to find and keep permanent housing in Sonoma County.